Buying a ceiling fan for your bedroom can be an easy task if you are conversant with all the considerations to make. However, if you decide to walk in a store, you might get confused due to the availability of various types and designs. A bedroom is somewhere you will rest after having a long tiresome day. Therefore, the kind of ceiling fan you settle for should be able to fall in line with your preferences. Below are tips to consider before purchasing a ceiling fan for your bedroom.
Points To Consider When Buying A Ceiling Fan For The Bedroom.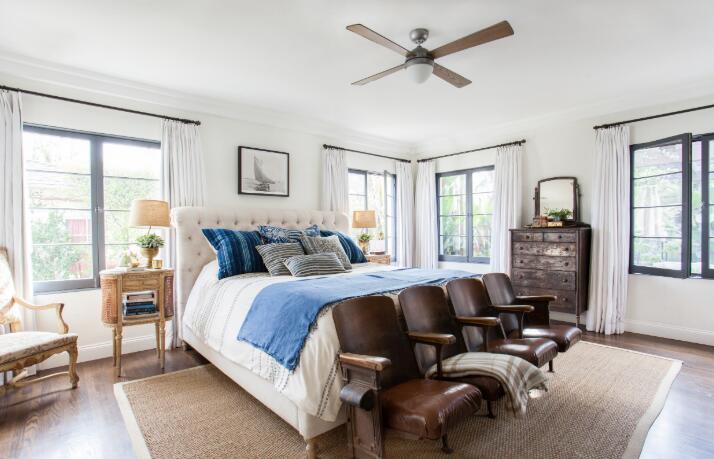 Illumination.
Most modern fans come with lighting kits. These kits add functionality to the ceiling you will buy. The amount of light to be provided should be in favor of what you want. However, you can ideally buy one that can have the lights adjustable to ensure your bedroom isn't too bright or dull.
Control System.
When you retire to your bedroom, you will mostly want to lie down and relax. Therefore its highly advised that you chose a fan that has a flexible controls system. There are several types of control to choose from, depending on your preference. Wall controls and remotes are among the types commonly available. However, remote controls are more convenient for a bedroom set up.
Motor Size.
Motors are like the heart for any ceiling fan because they determine how much air flows. If you want a fan with high airflow, then buy one with a big motor. However, a fan with a smaller engine will have very minimal airflow. Look at the aesthetics of your bedroom well before making any final purchasing decisions. The motor size will always determine the amount of electricity consumption, so its good to have this information in mind as well.
Size Of Fan.
Ceiling fans don't come in a standard size. There is an overwhelming list of sizes and designs. The first thing to consider when buying a ceiling fan for your bedroom is the size of the room. Get measurements in regards to square footage. Present this information to the store owner, and they will give better advice on the size suitable for you. A small room will call for a smaller fan. Never make assumptions about measurements since you might end up with a fan that doesn't fit properly.
Number Of Blades.
Any consumer will look at blades as the first significant thing. It is good to know that they play a massive role in the efficiency of any ceiling fan. The outlook feature is what most people look at, yet it's not the most important. Since most bedrooms are not very big, always concentrate on the number and placement angle of blades. This feature determines the functionality of the fan in the long run. Many edges might look pleasing to the eye, but fewer blading are more efficient.
When you feel stuck with little knowledge about ceiling fans, you should talk about your personal preferences to an expert in this area. However, take time and consider these tips to ensure you get a fan that is efficient to serve its purpose. Research thoroughly to end up with one of the excellent qualities to fit your preference and for your general safety.